Evening Lecture: UQ Architecture installation at the 13th Venice Biennale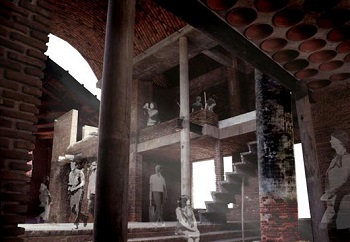 In conjunction with the Queensland Academy of Creative Industries (QACI), QAAS presented the lecture, 'UQ Architecture Installation at the 13th Venice Biennale', in August last year in the large public lecture theatre of QACI's Kelvin Grove campus.
The lecture was delivered by Anupama Kundoo, Michael Dickson, Greg Killen and Chi Tang from The University of Queensland. Over 60 people attended the event, including QACI teachers, students and their parents, as well as QAAS members. Several people stayed for drinks and nibbles afterwards and to meet the brace of lecturers.
Dr Anupama Kundoo was one of about 60 architects from around the world invited to exhibit at the 13th Venice Architecture Biennale in 2012.
Her work is included in the Phaidon World Atlas of Contemporary Architecture, and the Venice Biennale is the prestigious international architecture exhibition.
Anupama's installation was a full-scale model of part of one of her buildings, Wall House, in India. Wall House combined traditional building materials and techniques with modern architectural and engineering ideas.
Working with her colleagues, Michael Dickson (architect) and Greg Killen (engineer), together with a team of students from UQ (one of whom was Chi Tang), a second team of Indian craftsmen, a helpful Italian architect and, finally, a team of Italian students, the installation was built on site – inside an old arsenal – in Venice, just in time for the opening of the Biennale.
How the team marshalled the necessary materials (including, in the end, paper coffee cups), overcame the structural limitations
of the old arsenal building and managed the logistics of the whole exercise (Italy shuts down for part of the summer and there is no Bunnings just around the corner) amounted to a minor miracle.
One of the most interesting aspects of the lecture was their account of how students took on decision-making and instructional roles that would traditionally have been the province of their teachers. In its review of the Biennale, The New York Times made some critical remarks about the exhibition, but it singled out Wall House as one of the "gems".