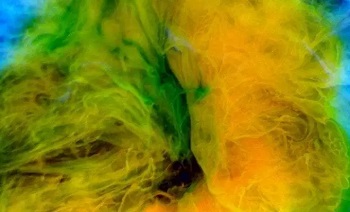 Come enjoy art, science and drinks at the Ecosciences Precinct!
The evening begins with drinks and canapes and time to view the sixth Art meets Science Exhibition. Then you can kick back, relax and listen to our panel of artists and scientists discuss where art and science collide.
KEYNOTE: DR GRAHAM BAKER
Graham spent the first six years of his career in engineering practice, in the UK, Oman and Nepal, before embarking on a 30-year career in academe. After teaching and research at Heriot-Watt University Edinburgh, the University of Queensland, and then Warwick University, he returned to Australia as Dean of Engineering and for seven years as Deputy Vice-Chancellor at the University of Southern Queensland. In that role he sponsored research from Public Memory, through climate change and systems biology, to fibre composite materials. At a sector level, Graham built partnerships across Australian Universities, and with institutions in China, the USA and Europe. His own research work covers structural and computational mechanics of materials and structures. He is a Fellow of the Institution of Engineers Australia, a Graduate of the Australian Institute of Company Directors, and Fellow of the Queensland Academy. In addition to his role as President of the Queensland Academy of Arts and Sciences, Graham runs his own consultancy in strategy and innovation. He has held governance positions with Queensland Cyber Infrastructure Foundation and AINSE, and is currently Board Chair of a primary health organisation.
Our panel features:
PROFESSOR ROSS BARNARD
For Professor Ross Barnard, Director of The University of Queensland's Biotechnology Program, art has been a lifelong interest. According to his mother, Ross drew obsessively as a child, and in 1968 took out first prize for his painting in the primary school art prize. While science would become Ross' lifelong vocation–his research currently covers infectious diseases, molecular biology and biotechnology–his enthusiasm for art persisted and grew.
DONNA DAVIS
Donna Davis is a multi-discipline artist intrigued with the idea of connection and networks; her work explores the nexus between art and science with a particular focus on natural and social ecologies. Working across sculpture, installation and digital media, Donna captures and creates sites of ecological observation in order to provide new ways of 'seeing'; creating new connections in the mind of the viewer that may challenge their ecological discourse. She completed her Bachelor of Arts (ART) at Curtin University and has works held in both public and private collections. She has exhibited widely in both solo and selected group exhibitions, and has had her work feature in both state and national touring exhibitions.
SVETLANA TREFILOVA
Svetlana Trefilova is an artist of Russian-Ukrainian origin currently residing in Brisbane, Australia. She has experimented with different media and techniques. Svetlana is a member of the Brisbane Institute of Art and Royal Queensland Art Society (Gold Coast Branch), and regularly displays her work atexhibitions and art events in South-East Queensland. She teaches short courses and workshops at Brisbane Institute of Arts and other Brisbane venues. Svetlana obtained a Master of Arts in Visual Arts with Honours at the Queensland College of Arts (Griffith University, Brisbane) in 2014 and is currently in the second year of her doctoral candidature.
MARIA VANDERGRAGT
Maria originally trained and practiced as a ceramic artist and photographer. Her earlier ceramic work, informed by the patterns and textures of the natural world, is represented in public and private collections throughout Australia. Taking a break from art, Maria then focussed on her work as an environmental scientist. Around ten years ago, Maria returned to drawing and painting, developing a practice using pastels and focusing on Queensland's landscapes. She enjoys the qualities of pastel as both a drawing and painting medium, its directness and luminosity. Maria's work as an environmental scientist and the time spent in 'the bush' is integral to her art practice.
About the exhibition:
Sixteen artists with recently completed science-based artworks have been invited to exhibit at the sixth Art meets Science Exhibition at the Ecosciences Precinct.
The partner organisations at the Ecosciences Precinct (ESP) Dutton Park hold a number of public and internal events during National Science week. Since 2012, one of these events has been the hosting of an Art meets Science Exhibition. The Exhibitions have proved to be very popular with visitors to the building and the approximately 800 science workers at ESP.
The exhibition opens August 11 and closes September 8.