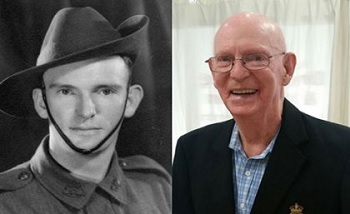 World War II veteran Dr John O'Hagan AM has been on an incredible journey since starting his studies at The University of Queensland 80 years ago in 1939.
As ANZAC Day approaches, the now 98 year-old reflects on his military service, which contributed to an illustrious career as one of Queensland's pioneering medical scientists.
"I enrolled as an evening student at UQ in 1939, while working at a day job as a cadet draftsman at the Queensland Department of Public Lands," Dr O'Hagan said.
"I've always loved science, and I finally had the opportunity to learn more about the world, following my passion for chemistry.
"When the war broke out I decided to continue my studies while on active military service – taking a UQ textbook with me – eventually completing my Bachelor of Science in 1947."
Dr O'Hagan used the skills he learned at UQ in a range of roles during the war, demonstrating the use and demolition of explosives, teaching about poisonous gases, working as a mapmaker and developing back-up radar equipment.
"Imagine sitting in a clearing 200 metres in diameter in the middle of the jungle in the tropics, staffing a radar station," he said.
"In those days, you weren't allowed any kind of metal protection – it might affect the equipment – so you're a sitting duck in not much more than a large, fibreboard box.
"If even a small shell hits, you could lose your computational equipment, but the gunners still need a way to interpret the data that may be coming in; data you and your mates are relying on for action and survival.
"So, while on secondment to UQ's Department of Physics before leaving Brisbane, I used my mathematical knowledge to develop and construct innovative logarithmic slide rules, which were used as backups for radar data plotters throughout the war."
Dr O'Hagan's knowledge of then-secret radiolocation and ranging (RADAR) equipment took him all the way to Darwin's 55th Australian Composite Anti-Aircraft Regiment in 1943.
On discharge, he graduated with his Bachelor's degree in 1948, soon followed by a Master of Science in 1950 and finally a PhD in 1959, all completed at UQ.
"I was the very first PhD graduate in biochemistry from a Queensland university," he said.
"And from start to end my UQ experience prepared me for my career with the Queensland Government's Chemical Laboratory, the Department of Health, the Red Cross Blood Service, Princess Alexandra Hospital pathology department, UQ and the CSIRO, with other fruitful periods at overseas universities."
Dr O'Hagan contributed more than 30 years of fundamental, clinical and applied research, particularly in the area of blood chemistry, with significant medical research on haemoglobin, myoglobin, cytochrome A and prostaglandins.
His work has appeared in more than 40 publications and he continues to dedicate what time he can to public service, including working with Stephens RSL at Annerley to raise money for prostate cancer research at UQ's Diamantina Institute.
"It's been an honour to be able to give back to my community throughout my life, whether that's through research, teaching or helping other scientists become inspired," he said.
"I've particularly enjoyed founding and being the first president of the Queensland Academy of Arts and Sciences, which seeks to extend both the arts and the sciences through their mutual contributions to the others' field.
"I'm hoping we can inspire a whole new generation to pursue a career in science – skills in scientific fields are becoming more and more essential in today's world."
UQ is a major sponsor of the Queensland Academy of Arts and Sciences' Annual John O'Hagan Lecture.
Media: Dr John O'Hagan AM, johagan@powerup.com.au, +61 428 481 809?, +61 7 3848 1809; Dominic Jarvis, dominic.jarvis@uq.edu.au, +61 413 334 924.